This is an archived article and the information in the article may be outdated. Please look at the time stamp on the story to see when it was last updated.
A 14-year-old boy from Castaic died from massive head injuries one day after crashing his motorcycle during a national motocross competition in Texas, his family said Monday.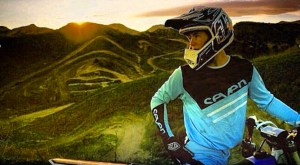 Tyler Hoeft was competing in the Freestone Amateur Motocross competition in Wortham, Texas, last Thursday when the crash occurred.
"I did not see it, thank God," his father, Darrin Hoeft, told KTLA. "But I felt it when I saw the Red Cross."
Tyler succumbed to his injuries on Friday.
Three days later, friends and family who had gathered to ride in the beloved teen's honor remembered him as an "awesome kid" who was deeply passionate about the sport.
"He could talk to anyone," his older brother Justin recalled. "Whoever he talked to just fell in love with him right away."
As the son of top professional supercross rider, Tyler and his 17-year-old brother grew up around the sport, and both had been riding nearly as long as they could walk, according to the family.
"We grew up riding actually around the house since we were 4 years old," Justin said. "That's all we did after school, we'd come home and ride until dark."
Tyler's family said the teen pursued his passion despite the risks of the sport.
"It's a dangerous sport. Everybody know that when you swing your leg over it, it could happen," Hoeft said. "It happened."
Still, his father added that Tyler loved motorcross, and that he did not regret his son's involvement with it.
"He was doing what he loved," Hoeft said.
The family also stated that the 14-year-old was an organ donor.
"Now, with him not being here, he's saving a lot of other people. He's giving back life to hundreds of people," Hoeft said.