This is an archived article and the information in the article may be outdated. Please look at the time stamp on the story to see when it was last updated.
A 7-year-old Porter Ranch resident who cut off her her long, wavy locks after being diagnosed with leukemia last December was able to flip her own hair again Wednesday after getting a wig made by a Camarillo business that specializes in custom hair pieces for cancer patients.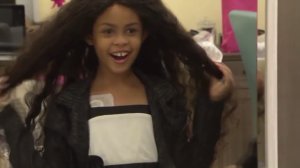 Once they got the diagnosis, Aliya Hall's family decided to go ahead with chemotherapy, though they were warned of the possible side effects, including hair loss.
Aliya was able to cut her hair off before she lost it.
Rather than buy a wig that didn't look authentic, they found Hair Couture Designs in Camarillo, a salon that specializes in custom wigs for cancer patients and other medical-related hair loss. They use patients' real hair when possible, otherwise they create wigs donated by loved ones.
It took five months, but the salon turned her locks into a wig.
Aliya was all smiles when she finally got to try it on, and said it felt "very very great."
"Now I'm really loving this because all my life usually I always do that, that and that," she said after donning her wig and flipping her new locks.
Aliya's family hopes the new wig will help the bubbly girl who wants to be a "fashionista doctor when she grows up," forget about her illness.
"That's what we're hoping. Because when you dress up and you have your hair, you can't tell, you can forget about it," Aliya's mother Ashley Hall told KTLA.
The wigs last at least 10 years and are often covered by insurance. The owners at Hair Couture said they are always looking for hair donors.
Aliya's family has been struggling to pay bills since their daughter was diagnosed and set up a fundraising campaign to help support her recovery.
Correction: A previous version of this story incorrectly spelled the girl's name. The post has been updated.