This is an archived article and the information in the article may be outdated. Please look at the time stamp on the story to see when it was last updated.
A 28-year-old man known as the masked thrill-seeker "8booth," notorious for videos of his death-defying leaps off buildings and cliffs in Laguna Beach and Newport Beach, was sentenced Friday to probation, community service and a day in Orange County Jail after pleading guilty to four misdemeanors.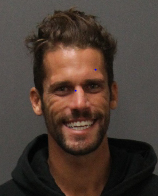 Anthony Booth Armer of Laguna Niguel pleaded guilty Friday to two counts of unauthorized entry of a dwelling and two counts of trespassing with intent to interfere with business, according to Orange County Superior Court records.
Judge Brett London immediately sentenced Armer to three years' informal probation, 100 hours of community service and one day in jail.
Armer, known as 8booth on YouTube, has jumped from private rooftops, hotels and cliffs into the ocean and swimming pools. 8booth's videos show him leaping from cliffs above Crystal Cove State Park and the Montage Laguna Beach resort, from hotels in Laguna Beach and off the roofs or railings of beachfront homes.
Read the full story on LATimes.com.