This is an archived article and the information in the article may be outdated. Please look at the time stamp on the story to see when it was last updated.
CANOGA PARK, Calif. (KTLA) — Residents at an apartment complex in Canoga Park are fed up, saying their apartments are infested with bed bugs.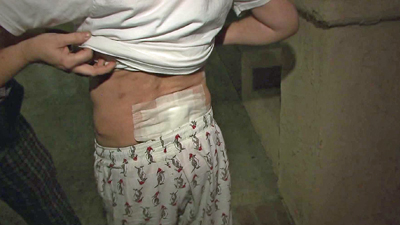 They live at the Riata Luxury Apartment Homes, located in the 8500 block of De Soto Avenue.
Resident Lori Sievers and her fiancee say they pay $1,000 a month to live in a home where they claim bed bugs are eating them alive.
Susan Durant and her husband say their apartment is infested too, and it's making them sick.
The group, with fresh bites and scars all over their bodies, says they've been pleading with the on-site manager for help, but they aren't getting any.
When Sievers organized resident meetings to help address the problem, she says she got nothing but a violation notice, warning that meetings on the property aren't allowed.
KTLA asked the on-site manager if she was aware of the bed bug problem.
"That's not true, and I refuse, that's not true," she said, but then she quickly changed her tone.
"I didn't say it's not true," she insisted. "If there are any, we scheduled and they refused the service and we have proof of that."
The apartments are owned by a company called Halt-Ten Riata LP. KTLA was unable to reach any other owners or managers by telephone.