This is an archived article and the information in the article may be outdated. Please look at the time stamp on the story to see when it was last updated.
LONG BEACH, Calif. (KTLA) — Lawmakers in Long Beach voted unanimously Tuesday to have the city attorney draft an amendment regulating the music from ice cream trucks.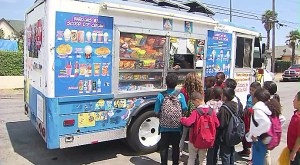 The proposed amendment to the city's noise ordinance would require ice cream trucks to stop playing music when they are idling or selling their frozen treats, councilman Dee Andrews said.
The trucks could still play music to alert customers to their approach, but once they stop the music must be turned off.
Andrews requested the ban after receiving complaints from residents in his district, which includes the Sunrise, Whittier, Wrigley and South Wrigley neighborhoods, as well as Cambodia Town, according to the L.A. Times.
The city attorney now has 30 days to bring the ordinance back to the council for a vote.