This is an archived article and the information in the article may be outdated. Please look at the time stamp on the story to see when it was last updated.
LONG BEACH (KTLA) — Two people died on Monday morning after a motorcyclist led police on a short pursuit on the 605 freeway in Long Beach.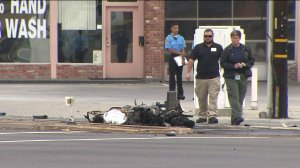 The motorcyclist exited the freeway and slammed into a minivan at the intersection of Norwalk and Wardlow around 6:10 a.m., authorities said.
Both the driver of the minivan, a female in her 60s, and the motorcyclist died.
The intersection was expected to be closed until noon on Monday while authorities investigate the crash.