This is an archived article and the information in the article may be outdated. Please look at the time stamp on the story to see when it was last updated.
A longshoreman has died after a vehicle he was driving at the Port of Los Angeles plunged into murky waters, a port spokesman said Monday evening.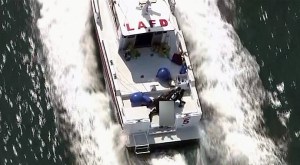 The man was operating a utility tractor rig on a dock at the Evergreen terminal when it fell into the main channel off Terminal Island on Monday afternoon.
The vehicle, similar to a big-rig cab and chassis, is used to move shipping containers.
The vehicle sank to the bottom of the 50-foot channel, where the victim was pulled from its cab by Los Angeles Fire Department SCUBA divers, officials said.
Click here to read more at LATimes.com