This is an archived article and the information in the article may be outdated. Please look at the time stamp on the story to see when it was last updated.
A team of KTLA employees, including anchor Lu Parker laced up their sneakers for a good cause.
Lu, news director Jason Ball, reporter Doug Kolk and producer Madelaine Hahn joined thousands of other runners and weekend warriors Friday at the 20th Annual Stair Climb for Los Angeles, benefiting the Ketchum-Downtown YMCA.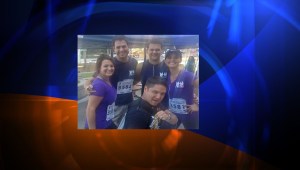 Participants were expected to dash up  1,679 stairs to the top of the 75 story U.S. Bank Tower.
Some Los Angeles firefighters even conquered the tower with their gear in tow.
The U.S. Bank Tower is the tallest building on the West Coast, organizers said.
The event raised $497,211, according to the Ketchum-Downtown YMCA.
The money raised will go towards programs for children, teens, families and seniors.