This is an archived article and the information in the article may be outdated. Please look at the time stamp on the story to see when it was last updated.
A violent takeover-style robber dubbed the "Luger Bandit" has been linked to a sixth bank, five of which were robbed and one where an attempted robbery occurred, federal authorities announced Monday.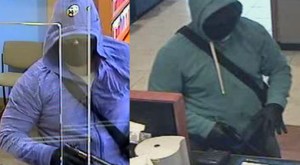 The bandit was being sought in Los Angeles, San Bernardino and Riverside counties, in connection with robberies at Wells Fargo banks in Granada Hills, Fontana and Corona, at a Chase bank in Mira Loma and a Bank of America branch in Corona, according to a news release from the FBI.
He was also suspected in an unsuccessful robbery at a Wells Fargo bank in San Dimas, the release stated.
The bank robberies linked to the Luger Bandit date back to June 2013. The most recent robbery occurred on Jan. 8.
In each case, the bandit ordered employees and customers to the ground, brandished a German Luger-style weapon and demanded cash, according to the FBI.
The Luger Bandit took care to conceal his identity in each robbery. In surveillance photos, he was seen wearing pullover hooded sweatshirts and jeans. He also wore a mask, sunglasses, black gloves and carried a black bag with a strap.
He was described by witnesses as a white or Hispanic male, 30 to 40 years old, standing 6 feet tall and weighing 200 pounds. Witnesses also described his vehicle as "a charcoal gray BMW, 3-series with a sports package," according to the release.
Two of the banks that were robbed were offering a combined reward of up to $15,000 for information leading to the arrest and conviction of the bandit, the FBI reported.
Anyone with information was urged to contact the FBI at 888-226-8443.