This is an archived article and the information in the article may be outdated. Please look at the time stamp on the story to see when it was last updated.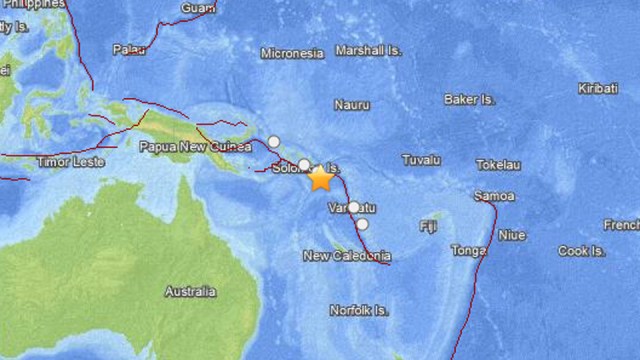 A tsunami warning was in effect for the Solomon Islands and Papua New Guinea after a magnitude-7.6 earthquake struck on Sunday morning, officials said.
The temblor occurred at 7:14 a.m. local time, at a depth of 18.2 miles, according to the U.S. Geological Survey.
The epicenter of the quake was located 62 miles southeast of the Solomon Islands' city of Kirakira and  575 miles southeast of Papua New Guinea, the USGS said.
The earthquake's magnitude was downgraded after initially being reported as 8.3.
The U.S. National Tsunami Warning Center said it was "analyzing the event to determine the level of danger."
"This earthquake has the potential to generate a destructive tsunami in the source region," the Warning Center said in a statement.
No threat existed for California, Oregon and Washington, according to officials.