This is an archived article and the information in the article may be outdated. Please look at the time stamp on the story to see when it was last updated.
WOODLAND HILLS, Calif. (KTLA) — Police on Tuesday were searching for four men who allegedly carjacked a U.S. Postal Service mail carrier at gunpoint in Woodland Hills.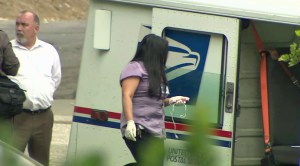 It happened around 2:30 p.m. in the 20600 block of Dumont Street.
The truck was found abandoned in the 4900 block of Natoma Avenue with some mail missing from inside, police said.
The mail carrier was shaken up, but was physically fine.
The thieves may have been after personal information contained in the mail, according to USPS officials.
"You have money, checks, credit cards, social security numbers… That would be an easy reason to figure out why they took the mail," Charles Jones, of the USPS, said.
The men being sought by police were described only as two black men and two Hispanic men.