This is an archived article and the information in the article may be outdated. Please look at the time stamp on the story to see when it was last updated.
SIMI VALLEY, Calif. (KTLA) – A public fireworks display went horribly wrong Thursday night, injuring at least 36 people, officials said.
Twenty of the victims were transported to Los Robles Hospital, Simi Valley Hospital and Providence Holy Cross Medical Center, according to Capt. Mike Lindberry, a spokesman for the Ventura County Fire Department. Eight victims were treated at the scene, and others sought treatment on their own.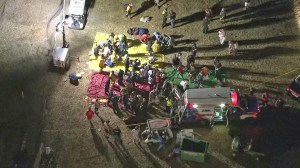 Two people remained hospitalized in fair condition Friday morning, the Los Angeles Times reported.
The condition of a third patient, who was transported to Grossman Burn Center, was not immediately known.
The mishap caused an accidental detonation during a professional fireworks display at the Rancho Santa Susana Community Park located near East Los Angeles Avenue.
"Obviously what happened is, we had a severe malfunction in one of these devices," Lindberry said.
"We want to find out why it happened — was it equipment, was it faulty, was it loaded improperly."
Amid the chaos, Ventura County firefighters set up a triage center in the park, where they treated adults and children, many of them hit by flying debris.
Annisa Wynn, who witnessed the accident told KTLA News the explosion happened about two minutes into the show.
Fireworks suddenly began shooting sideways into the crowd, instead of up in the air, she said.
"The fireworks were so close, you could see them on the ground," Wynn said. "It never happens this way. People were screaming."
Fire officials told KTLA News between 8,000 and 10,000 people were watching the show when the accident happened.
One person near the front of the crowd captured the incident on the video below:
The next video shows the explosions from above: