This is an archived article and the information in the article may be outdated. Please look at the time stamp on the story to see when it was last updated.
Police have arrested a 25-year-old man for alleged child annoyance in Irvine, officials announced Wednesday.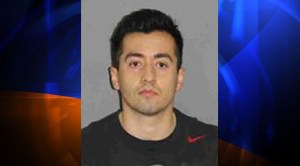 Joseph Anguiano was taken into custody Tuesday night after he stepped into the path of a 12-year-old girl who was walking in the residential area of Woodbridge, according to a news release from the Irvine Police Department. The girl had emerged from a walkway that connects Brookstone and Woodland (map).
During a brief encounter with the girl, Anguiano asked her age and for directions to an area elementary school, according to police.
"The girl responded with incorrect information because she knew from presentations police officers had made at her school that she should never reveal facts about herself to strangers," the release said. "When she pointed the wrong direction regarding the location of the elementary school, Anguinano corrected her, indicating he already knew the correct direction."
When an undercover Irvine police detective who had been surveilling Anguiano approached on foot to intervene, the suspect changed direction and walked away, authorities said. Anguiano was followed by additional undercover detectives and later taken into custody.
On March 11, after one in a series of child annoyances, police had released descriptions of a suspect and vehicle. Based on tips from the public, Anguiano was identified as a possible suspect.
He was arrested for the alleged child annoyance that occurred on Tuesday and booked into the Orange County Jail, according to police. Search warrants were executed Tuesday night at his residence and early Wednesday on his vehicle, as part of the ongoing investigation into his possible involvement in the prior incidents.