This is an archived article and the information in the article may be outdated. Please look at the time stamp on the story to see when it was last updated.
Police were searching Monday for a man who carjacked a man and his 7-year-old daughter at gunpoint from outside a library in Pacoima.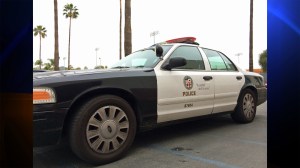 The man approached the father and daughter around 3 p.m. as they were walking into a library at Haddon Avenue and Van Nuys Boulevard (map), according to Sgt. Charles Coleman with Los Angeles Police Department's Foothill Division.
The carjacker pulled out a gun and order them to get back into their car and drive to another city where they were forced to withdraw money from an ATM, Coleman said.
After getting the money, Coleman said the man and his daughter were dropped off at the interchange between the 5 and 14 freeways.
They were trying to flag down a car when they were spotted by the California Highway Patrol who stopped to help the father and daughter, Coleman said.
The highway patrol turned the case over to the LAPD who tracked down the family car using the vehicle's LoJack system, police said.
The carjacker was no longer with the vehicle, police said.
He was described by the CHP as a Hispanic man, about 5 feet 8 inches and 5 feet 9 inches tall, weighing 150 pounds and dressed in black.  He was armed with a handgun, the CHP said.
The stolen vehicle was a green 2004 Toyota Tundra with a cracked windshield and a right rear tail light that was not working, police said.
Anyone with information was urged to call the LAPD's Foothill Division at 818-756-8861.