This is an archived article and the information in the article may be outdated. Please look at the time stamp on the story to see when it was last updated.
The man accused of leading authorities on a high-speed pursuit before barricading himself inside a North Hollywood home for several hours was booked on suspicion of felony charges Tuesday, according to court records.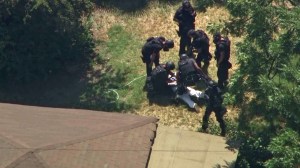 Nolan Perez, 41, was being held without bail in a Los Angeles jail after being arrested on Monday, according to the Los Angeles County Sheriff's Department inmate information center website.
Perez was arrested at a home in the 11500 block of Hartsook Street (map) following a nearly 4-hour standoff that prompted a massive police response and the evacuation of several schools and homes in the area.
Prior to the standoff and arrest, Perez allegedly fled from authorities in El Sereno and led them on a high-speed pursuit across several Los Angeles area freeways.
Perez was being sought on suspicion of felony stalking and six counts of making criminal threats since May 19, according to a criminal complaint.
At one point during the pursuit, Perez allegedly held what appeared to be an assault rifle out of the car window.
The pursuit ended when the car came to a stop in North Hollywood and Perez allegedly got out of the vehicle still carrying the weapon.
After being spotted on top of a roof, Perez allegedly climbed back down and barricaded himself in a home on Hartsook Street.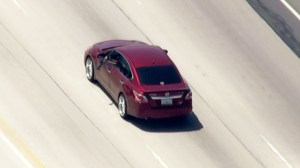 Authorities set up a perimeter around the neighborhood and evacuated nearby homes and schools.
Several hours into the standoff, authorities fired tear gas into the home.
A man identified as Perez by authorities staggered out of the home and was taken into custody as he was lying face down in the grass.
It was unclear when Perez would make his first court appearance.