This is an archived article and the information in the article may be outdated. Please look at the time stamp on the story to see when it was last updated.
A man deliberately caused a crash that killed one and injured two others on Highway 126 in Fillmore, authorities said on Friday.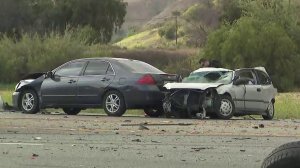 Eduardo Robles, a 30-year-old Fillmore resident, was arrested late Thursday on suspicion of murder and attempted murder, according to the Ventura County Sheriff's Office.
He had been taken into custody earlier on suspicion of DUI, Sgt. Eric Buschow told KTLA.
At around 2:24 p.m. that day, Robles was driving a gray Honda sedan on the westbound 126 near Mountain View Street when he allegedly rammed into the back of another car on purpose, according to the Sheriff's Office.
That caused the car to spin into the eastbound lanes, where it was hit by a tractor trailer, the agency said.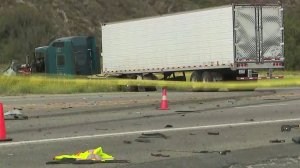 Officials pronounced the driver of that car—identified by the Sheriff's Office as a 28-year-old man—dead on the scene, while the truck's driver and Robles' passenger were taken to a hospital for their injuries.
Authorities shut down the road on both directions for hours as detectives assessed the scene.
Investigators did not provide details about a possible motive.
Robles was being held at a pre-trial detention facility in Ventura on $700,000 bail, according to the Sheriff's Office.