This is an archived article and the information in the article may be outdated. Please look at the time stamp on the story to see when it was last updated.
A 31-year-old man was arrested for allegedly opening fire on a San Bernardino County Sheriff's deputy during a traffic stop in Victorville on Sunday.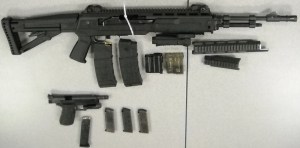 Shawn Munoz, of Ontario, was booked on suspicion of attempted murder on a peace officer in connection with the shooting.
It happened on Sunday around 9:45 p.m. as the deputy was conducting a traffic stop in the area of Hesperia Road and Green Tree Boulevard, according to a news release from the San Bernardino County Sheriff's Department.
The deputy was walking back to his patrol car when he saw a silver Chrysler 300 driving toward him, the release stated.
The vehicle slowed down as it approached and the deputy saw a window on the driver's side being lowered, according to the release.
Investigators said the deputy saw muzzle flashes and heard four gunshots coming from the car. He returned fire and attempted to catch the vehicle, but was unsuccessful. He was not injured.
The vehicle was later found outside a home in the 13800 block of Apple Creek Drive, the release stated.

Inside the home, investigators said they found a .45 caliber handgun and ammunition, a mini 14 rifle with two 30-round magazines and gang paraphernalia.
Munoz was arrested at the scene.
Anyone with information was urged to contact the Victorville Police Department at 760-241-2911 or Sheriff's dispatch at 760-956-5001.