This is an archived article and the information in the article may be outdated. Please look at the time stamp on the story to see when it was last updated.
A Sherman Oaks man accused of deliberately running over and killing his estranged wife's pet Chihuahua — named "Cow Cow" — pleaded not guilty Tuesday to animal cruelty and other counts.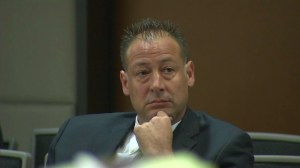 Michael David Parker, 45, was caught on surveillance video taking the 5 1/2-year-old dog into a Hawthorne alley and running it over, leaving it fatally wounded on the pavement, police said.
Parker was arrested in January in connection with the Dec. 28, 2013, killing of "Cow Cow," whose body was found several days after being run over.
Parker's estranged wife Olga told KTLA in January that she believed "Cow Cow" was killed in retaliation for her having  not given Parker money from their retirement fund.
Surveillance video showed Parker pulling into an alley, then getting out of the car and opening his trunk and getting back into the vehicle, Hawthorne police said at the time of Parker's arrest.
The car then backed up and then rapidly accelerated directly toward the dog, running "Cow Cow" over, the video showed. As the dog lied bloody and convulsing, the car drove away.
The case has drawn interest from animal lovers and animal rights supporters, generating multiple online petitions, including one that has garnered nearly 3,000 signatures in support of Parker's prosecution.
"He aimed right at the helpless little dog, who was looking up at his "devoted owner," ran over the little guy and then zoomed off without a second thought," the petition reads.
A copy of a petition was delivered Tuesday to the prosecutor by a Ventura woman who attended the arraignment hearing. She spoke to a KTLA photographer outside the courthouse.
"We just all want to see justice for Cow Cow, the little dog," said the woman, who gave her name as Susie Guerrero, the spelling of which was not known.
"I just want to be sure that I've done everything, as an animal lover, to make sure that justice is served," Guerrero said.
Parker was changed March 20 with one felony count each of cruelty to an animal and animal neglect. There was a special allegation that Parker used his car as a deadly weapon.
Parker was also charged with one misdemeanor count of petty theft of a dog.
He appeared in the Airport Branch of the Los Angeles Superior Court, and was ordered to return April 25.
Parker faces up to five years and two months in state prison if convicted on all counts.