This is an archived article and the information in the article may be outdated. Please look at the time stamp on the story to see when it was last updated.
A Sherman Oaks man admitted to deliberately running over his estranged wife's pet dog, leaving the animal to die in a Hawthorne alley, the Los Angeles County District Attorney's Office announced Friday.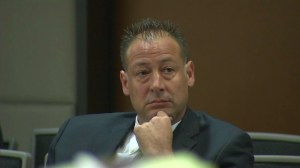 Michael David Parker, 45, pleaded no contest at a hearing at Airport Courthouse to one felony count of cruelty to an animal and admitted an allegation that he used his car as a deadly weapon, the DA's office stated in a news release.
Surveillance video recorded Dec. 28, 2013, showed him running over his wife's 5 1/2-year-old Chihuahua in an alley near El Segundo Boulevard and Doty Avenue in Hawthorne, according to police.
The dog, named "Cow Cow," was discovered on Jan. 2 by an area resident who reported the finding to Hawthorne police. Parker was arrested the next day.
The video showed Parker's vehicle backing up and then rapidly accelerating directly toward the dog, running "Cow Cow" over, Hawthorne police said at the time of Parker's arrest.
As the dog lay bloody and convulsing, the car drove away.
Parker's estranged wife Olga told KTLA in January that she believed Cow Cow was killed in retaliation for her not giving Parker money from their retirement fund.
The case had drawn the interest of animal lovers, prompting multiple online petitions in support of Parker's prosecution.
He was expected to be sentenced to 16 months in state prison, according to the DA's office.
His sentencing was scheduled for April 28, when the judge was expected to dismiss remaining charges of one felony count each of animal cruelty and petty theft of a dog, the DA's office stated.
Parker had faced up five years, two months in state prison if convicted on all charges.
[facebook url="https://www.facebook.com/ktla5/posts/10152363190839614″]