This is an archived article and the information in the article may be outdated. Please look at the time stamp on the story to see when it was last updated.
BURBANK, Calif. (KTLA) — A man was facing DUI charges on Wednesday after he crashed through an access gate at Bob Hope Airport in Burbank, police said.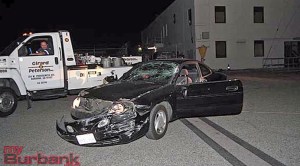 It happened around 9:30 p.m. on Tuesday night at a gate off Empire Avenue that leads to the tarmac.
The man rammed through the gate and then crashed into a metal railing outside an airport hangar, Burbank police said.
Airport police officers were on patrol nearby, and one of them reportedly heard a loud banging sound.
The driver was in custody within about a minute, authorities said.
Ralph Lucas, 64, of North Hollywood, was taken to the hospital to check for injuries and then booked on suspicion of DUI.
Both his car and the airport gate sustained major damage.
The section of the airport handles cargo for UPS. The incident did not affect any flights, an airport spokeswoman said.