This is an archived article and the information in the article may be outdated. Please look at the time stamp on the story to see when it was last updated.
A 39-year-old man was arrested by Fontana police after allegedly stealing a Ferrari twice, authorities announced Monday.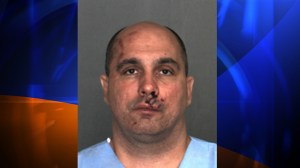 Officers initially located Earnie Steven Hooks in the Ferrari, which had been reported stolen, after he allegedly fled a DUI checkpoint in Fontana late last month, according to a news release from the Fontana Police Department.
The vehicle was found abandoned in the area of the Village of Heritage and taken to a local impound.
Hooks had left the area and was not found, police said in the release.
A day after the incident, the suspect allegedly broke into the impound facility and stole the Ferrari for a second time, the release stated.
He was located by detectives last Thursday allegedly driving the stolen vehicle in Studio City, according to police.
Hooks was arrested and taken to West Valley Detention Center. He faced a number of charges, including theft and unlawful taking or driving of a vehicle, authorities said.