This is an archived article and the information in the article may be outdated. Please look at the time stamp on the story to see when it was last updated.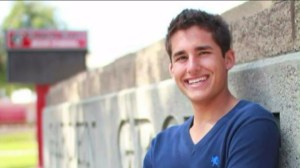 Friends and former classmates in Garden Grove are struggling to understand why anyone would want to hurt Justin Valdez.
The popular 20-year-old was shot and killed Monday as he was getting off a municipal light rail in San Francisco.
Valdez went to high school in Garden Grove before moving to the Bay Area to attend San Francisco State University two years ago.
Police have arrested 24-year-old Nikhom Thephakaysone in the shooting.
Detectives say he had no known connection to Valdez.  They called the shooting "unprovoked" and "random."
Valdez leaves behind his older sister, Jessica, who is in San Francisco tonight.
A vigil is planned for Valdez at the high school's pool deck from 5:30 to 9:30 p.m. Sunday.