This is an archived article and the information in the article may be outdated. Please look at the time stamp on the story to see when it was last updated.
An armed man who was barricaded inside a cellular store in La Crescenta died "apparently by his own hand" after an hours-long standoff, according to the Los Angeles County Sheriff's Department.
No shots were fired by sheriff's deputies, who entered the store more than five hours after the incident began, the Sheriff's Department said in a statement. No deputies or citizens were injured.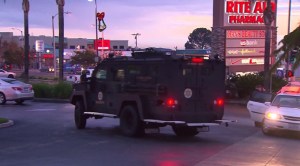 Deputies responded about 4 p.m. to a Verizon Wireless store at The Marketplace Shopping Center, located in the 2600 block of Foothill Boulevard, according to a Crescenta Valley Sheriff's Station official who identified himself as Sgt. Waterman. The man, who was alone inside the store, was armed with a gun and threatened to commit suicide, Waterman said.
The man had ran into the store after stealing prescription drugs during an armed robbery at the Rite Aid Pharmacy in the shopping center, said Sgt. Burton Brink, the sheriff's station's public information officer.
Sheriff's SWAT team members and deputies from multiple stations surrounded the store as crisis negotiators and Special Enforcement Bureau deputies communicated with the man, in an effort to persuade him to surrender, officials said.
Foothill Boulevard, which had been temporarily closed between Rosemont and Raymond avenues, was reopened after the standoff ended.
The Crescenta Valley Sheriff's Station, on Briggs Avenue, is located less than a mile east of the scene.
https://www.facebook.com/photo.php?fbid=10152031789174614&set=a.440942949613.222741.72391084613&type=1