This is an archived article and the information in the article may be outdated. Please look at the time stamp on the story to see when it was last updated.
A search was underway Saturday in South Los Angeles for the gunman who opened fire at a birthday party near the campus of the University of Southern California, authorities said.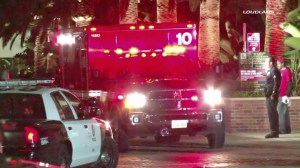 The shooting occurred Friday around 11:30 p.m., inside The Lorenzo apartments, according to the Los Angeles Police Department.
A man who was celebrating his birthday was shot once in the torso.
The victim, described as being in his 20s, was rushed to an area hospital, and was in critical condition, police said.
Hundreds of USC students live in the complex, located at 325 West Adams Boulevard (map).
But no students were involved, police said.
The Daily Trojan, the USC newspaper, sent out several tweets to let students know what was happening. "Shooting reported at The Lorenzo apartments," one tweet said.
Another tweet told students in the complex to take shelter.
LAPD is conducting an investigation at Lorenzo Apartments. Avoid the area. If resident, shelter in place. No USC students involved.

— Daily Trojan (@dailytrojan) February 8, 2014
The trouble started when a scuffle broke out at the party, according to witnesses.
"You heard boom, boom, boom, the music shut off completely," a man who did not give his name said.
"I jumped off the balcony.  Me and about ten other people, we were hanging off the fourth floor with one hand," the man said.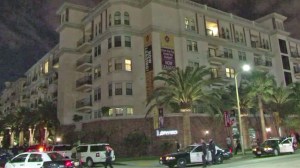 Witnesses said the gunman was wearing camouflage, although police could not confirm that information.
Investigators admitted they had little to go on.
"At this point it's kinda sketchy, there was a party at the location, several of the partygoers were inebriated," Sgt. Jonathan Pinto said.
Anyone with information about the shooting was asked to contact the Los Angeles Police Department.