This is an archived article and the information in the article may be outdated. Please look at the time stamp on the story to see when it was last updated.
A 46-year-old man was charged in a shooting at a Venice bar that allegedly stemmed from a verbal argument, officials said Tuesday.
Robert Leo Mewhorter pleaded not guilty on Monday to one count of attempted murder with a handgun in connection with the March 7 incident at Surfside that left another man injured, the Los Angeles County District Attorney's Office said in a news release.
The victim, who has not been publicly identified, had been in critical condition but was expected to recover. It's unclear how many bullets struck the man, but at least nine shots are heard ringing out in cellphone video from the scene.
Mewhorter was arrested March 8 on Windward Avenue across the street from the scene of the shooting, according to police. He is a transient, officials said.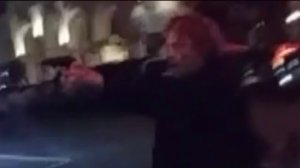 The defendant had previously told investigators the violence broke out after he felt disrespected by the victim, who police said he did not know.
Mewhorter left the bar at some point and opened fire upon returning, prosecutors allege.
If convicted as charged, he could face a maximum possible sentence of 34 years to life in state prison.
He was being held on $2 million bail and scheduled to return to court on April 11 from a preliminary hearing, officials said.
The Los Angeles Police Department is continuing to investigate the case.