This is an archived article and the information in the article may be outdated. Please look at the time stamp on the story to see when it was last updated.
A man charged in connection with the death of a Los Angeles firefighter was ordered Friday to serve one year in county jail and three years of probation, a sentence less severe than that desired by the prosecution.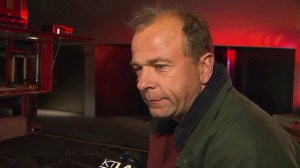 Gerhard  Albert Becker, 49, was slated to remain behind bars for four months and then be deported to Germany, where he is a citizen. His probation will be served in Germany.
Becker, an architect, was arrested following a fire at his custom-built Hollywood Hills home in 2011.
Firefighter Glenn Allen, 61, was on the ground floor when the home's ceiling collapsed, trapping him under several hundred pounds of plaster and lumber. He died five days later.
Becker was accused of ignoring safety recommendations, and he allegedly altered the home in 1500 block of Viewsite Drive (map) after it had undergone safety inspections.
"So many, many people's lives have been touched with tragedy because of what appears to have been a conscious and deliberate choice to violate the 'rules,'" Allen's widow wrote in a letter to the judge in Becker's case. "As a result of these actions, sentence has been passed on me, my family, and so many others, and it is a life sentence."
Melanie Allen said her life had been "ripped to shreds" by her husband's death.
"We had such plans for retirement, which was so close," Melanie Allen wrote. "I know it is cliche but we looked forward to growing old together."
Read: Melanie Allen's emotional letter to Judge Robert Perry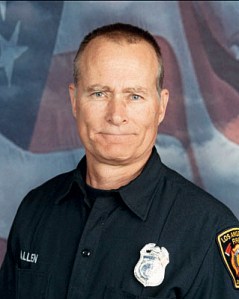 In a hearing in Los Angeles Superior Court Friday, Becker pleaded no contest to one count of involuntary manslaughter. Judge Robert Perry said city inspectors should have discovered problems at the home before allowing it to be occupied, according to the Los Angeles County District Attorney's Office.
Family members and firefighters packed the courtroom.
The prosecutor opposed the "low sentence," saying Becker had intentionally ignored building codes and a manufacturer's warning against installing an outdoor fireplace indoors.
The prosecution had argued that Becker should be sentenced to four years in jail, the Los Angeles Times reported.
Allen was a 38-year veteran of the Los Angeles Fire Department, which issued the following statement on Friday afternoon:
The Los Angeles Fire Department believes that building codes and fire codes are written for public safety and for the safety of firefighters. Today's guilty verdict in the case of Gerhard Becker, should send a clear message and warning to those who try to circumvent those codes. The Los Angeles Fire Department appreciates the hard work of the Los Angeles County District Attorney's Office, the Los Angeles Police Department, and the Los Angeles Fire Department's Arson Investigators who worked diligently to convict Gerhard Becker. The Los Angeles Fire Department is committed to the prosecution of those who willfully violate building and fire codes in the City of Los Angeles.
KTLA's Kennedy Ryan, Juan Flores and Melissa Pamer contributed to this report.