This is an archived article and the information in the article may be outdated. Please look at the time stamp on the story to see when it was last updated.
An architect who designed and built a Hollywood Hills home where a firefighter died was expected to be sentenced Friday on manslaughter charges.
Homeowner and architect Gerhard Becker was arrested following a fire at his custom built home on Viewsite Drive in 2011.
Glenn Allen, 61, was on the ground floor when the ceiling collapsed, trapping him under several hundred pounds of plaster and lumber. He died of his injuries five days later.
Five other firefighters were injured in the collapse.
Becker was accused of ignoring safety recommendations and allegedly altered the home after it had undergone safety inspections.
In court records obtained by the Los Angeles Times, authorities outlined the ways Becker allegedly cut corners to save time and for aesthetics.
DOCUMENTS: Read the Court Documents
Building inspectors said Becker had told them there were no plans to build fireplaces in the home, and none were apparent during a final inspection, the Times reported.
However, after the fire, investigators found that four outdoor fireplaces had been installed inside the house, in violation of city building codes.
Becker told authorities he considered them "architectural features or decorations" rather than fireplaces, court records show.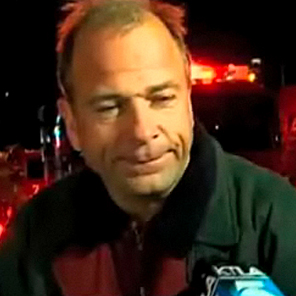 But authorities say they were extremely dangerous and built on "combustible materials." One of them vented into the same room it was built in.
"This man built an 18-foot fire trough designed for outdoors inside the home," Deputy Dist. Atty. Sean Cooley said about one of the fireplaces. "It was a recipe for disaster."
Authorities also claimed that plastic pipes used for fire sprinklers melted during the blaze, flooding the attic and filling the insulation with water. The weight of the water caused the ceiling to collapse.
Becker has indicated to the court that he wishes to enter a plea to avoid a trial, according to a news release from the Los Angeles Fire Department.
He faces a maximum term of four years in state prison.
Allen was a 38-year veteran of the Los Angeles Fire Department.