This is an archived article and the information in the article may be outdated. Please look at the time stamp on the story to see when it was last updated.
SUN VALLEY, Calif. (KTLA) — A man died at the hospital Wednesday morning after being shot at a marijuana grow operation in Sun Valley, police said.
It happened around 11:30 p.m. on Tuesday at a warehouse in the 8200 block of Lankershim Boulevard.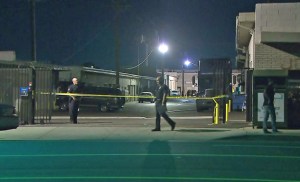 Two men responded to the location after being contacted by the alarm company about a possible burglary.
They were confronted by several individuals, described by police only as five to six Armenian men.
An altercation ensued, which ended with one of the men from the warehouse being shot in the chest, LAPD Sgt. Scott Kennedy said.
He was transported to Holy Cross Hospital in critical condition, where he later died.
A second person was taken to Kaiser Sunset with a reported head wound.
When police arrived, they saw blood on the front door of the warehouse and went inside to investigate, Kennedy said.
That's when officers discovered the pot growing operation, which appeared to be fairly new, police said.
Narcotics agents were awaiting a search warrant so they could remove the drugs.
The investigation was ongoing. Anyone with information was asked to call the LAPD's Foothill Division.