This is an archived article and the information in the article may be outdated. Please look at the time stamp on the story to see when it was last updated.
A man was found dead following a shooting in Van Nuys Sunday morning, according to LAPD.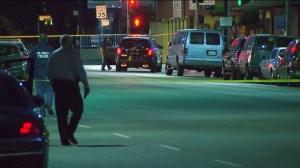 Around 1:45 a.m. the Los Angeles Police Department received numerous calls of shots fired near Kester Avenue and Lemay Avenue (map), Capt. Ivan Minsal with the Van Nuys Division of LAPD said.
Upon arrival officers found a man dead in an apartment's underground parking structure in the 6700 block of Kester Avenue (map),  Sgt. Matthew Jacobik with LAPD Van Nuys Division said.
The man appeared to be in his early 20s, but had not yet been identified, Minsal said.
It was not immediately known if the apartment had surveillance equipment.