This is an archived article and the information in the article may be outdated. Please look at the time stamp on the story to see when it was last updated.
Santa Ana police are looking for a man wanted in at least four armed robberies where he demands lottery scratchers and not money, officials announced Friday.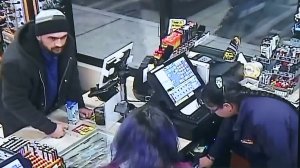 Police believe the incidents occurred between 8 and 9 p.m. Thursday and released video of some of the crimes in an effort to find the robber.
In one video the man is seen socializing with customers before asking for scratchers. He then shows a gun, doesn't pay for the items and leaves.
Police don't know why the man wanted scratchers and not cash.
"There's actually a clerk that's checking out of her register and there's a large sum of money sitting right in front of him. Has no interest in the money, he's solely going after the scratchers," Cpl. Anthony Bertagna told KTLA. "There's a reason he's doing it, we just haven't figured it out. Whether he's selling them on the street, or he's hoping he gets the million dollar hit, we're not sure."
Bertagna explained that the tickets are numbered and can be tracked if the man attempts to cash on winnings.  Officials believe he's stolen hundreds of scratchers valued at several thousands of dollars.
The man is described as being in his 30s, about 6 feet tall and 200 pounds.
The robberies occurred at an ampm at 3801 South Bristol Street, a 7-Eleven at 1441 MacArthur Boulevard, a Circle K 2400 block Fairview Street and a store in Costa Mesa.