This is an archived article and the information in the article may be outdated. Please look at the time stamp on the story to see when it was last updated.
The owner of two dogs has been cited after the pets caused a ruckus near a middle school west of Oklahoma City last week.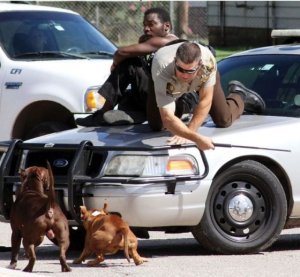 According to the El Reno Tribune, Canadian County Deputy Barrett Storm jumped into action when he saw a man running and screaming while being chased by two pit bulls.
The Tribune's Ray Dyer says the man was running backwards and was trying to keep the dogs away with a jacket.
At that point, Storm parked his patrol car and Storm and the man jumped on the hood of the cruiser to avoid the dogs.
Storm says when the dogs tried to wander, he would bang his baton on the car to keep them there until animal control arrived, KTLA sister station KFOR in Oklahoma City reported.
Fortunately, the dogs did not bite anyone and their owner was eventually cited for allowing them to run loose.
An animal control officer described the two dogs as "pit bulls" to the Tribune.