This is an archived article and the information in the article may be outdated. Please look at the time stamp on the story to see when it was last updated.
A Cal State Fullerton student who was hiking with a group of friends in the Angeles National Forest died after jumping from some rocks into a pool of water, the Los Angeles County Sheriff's Department stated in a news release Tuesday.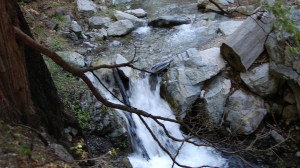 The group of 13 college students were hiking in the Hermit Falls area Monday when several of them decided to jump into the water from the adjacent rocks.
Friends tell KTLA that 19-year-old Kevin La landed in the water, but when he surfaced he appeared to be unconscious.
Some members of the group attempted to use their cellphones to call for help while others performed CPR on La.
He was airlifted to Huntington Memorial Hospital, where he was pronounced dead.
Hermit Falls (map) is a well known spot where hikers often participate in cliff jumping.
Friends have created a Facebook in La's memory.
"I'm going to miss his smile," friend Jean To said.  "That smile brought joy to a lot of people's faces. He brought smiles to people who were going through tough times."