This is an archived article and the information in the article may be outdated. Please look at the time stamp on the story to see when it was last updated.
ARCADIA, Calif. (KTLA) — An investigation was underway in Arcadia on Thursday after a man was found dead in a backyard pool, police said.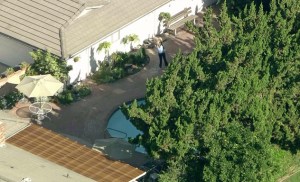 The call came in to Arcadia police around 8 a.m. from the 700 block of Camino Grove Avenue.
The homeowner reported a man's body at the bottom of the pool.
A dog that did not belong to the homeowner was also found in the backyard.
It did not appear that the resident knew the deceased man, authorities said.
No further information was immediately available.