This is an archived article and the information in the article may be outdated. Please look at the time stamp on the story to see when it was last updated.
A knife-wielding man was taken into custody Monday evening after setting an apartment on fire during an hourslong barricade situation in Van Nuys, authorities said.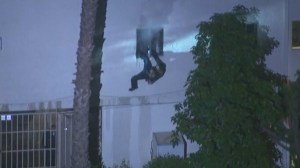 Officers responded about 9 p.m. to the 6900 block of Haskell Avenue (map) after a caller reported a burglar inside a residence, according to Lt. Robert Davis of the Los Angeles Police Department's West Valley Division.
"When they got there and made contact with a possible suspect, it turned into a barricade situation," Davis said. "During the course of that barricade, the person set the apartment on fire that he was inside."
The three-story structure was evacuated, forcing about 100 people to leave their homes.
News footage showed the unidentified man holding a dog and dangling from a window as smoke billowed out of the building.
The man dropped the dog, climbed down to a small platform below, then stood up as officers were in position a few feet away. He was taken into custody after being Tasered and falling to the ground.
The man was transported to Northridge Hospital Medical Center, where he was treated for head trauma and smoke inhalation, authorities said. A firefighter and police officer suffered minor injuries.
"By the time we arrived here, I saw this little one squealing in pain," LAPD Officer Amy Vest said at the scene, holding the dog while waiting for Animal Services officers to arrive. "The Fire Department was trying to pick her up because she apparently had a broken leg."