This is an archived article and the information in the article may be outdated. Please look at the time stamp on the story to see when it was last updated.
An 18-year-old Torrance man was arrested on suspicion of attempted murder after he allegedly repeatedly stabbed another teenager on a concrete median in the middle of an eight-lane Redondo Beach street just before noon on Thursday, police said.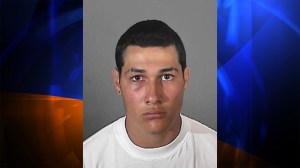 Kenneth James Tofaeono was being held back by the victim's father when officers got to the scene, near to the entrance to the South Bay MarketPlace mall, according to Redondo Beach Police Department Capt. Jeff Hink.
Tofaeono was taken into custody without resisting.
The 18-year-old victim had been stabbed in the torso multiple times and was hospitalized with life-threatening injuries, according to police.
"He was operated on and is now in intensive care," Hink said.
The stabbing occurred at about 11:40 a.m. at Hawthorne Boulevard at 177th Street, close to the South Bay Galleria mall.
The victim was in a car with his father when he spotted Tofaeono in the parking lot of an Islands Restaurant and confronted him, believing Tofaeono was responsible for the theft of a cellphone, Hink said.
It was not clear if the dispute was over the victim's cellphone or some one else's, Hink said, stressing the investigation was in preliminary stages.
A fight led to the nearby median of Hawthorne Boulevard, where Tofaeono allegedly began stabbing the victim in the middle of the heavily trafficked street.
"You can only imagine what these motorists who witnessed this were thinking," Hink said.
One woman from Torrance was shocked to hear that something like this could happen because of a cellphone.
"It's kind of sad because … a cellphone is only worth, like, a couple hundred dollars. … A human life, that's … invaluable," said Torrance resident Chiyo Miwa.
Tofaeono was being held on $500,000 bail.