This is an archived article and the information in the article may be outdated. Please look at the time stamp on the story to see when it was last updated.
A man was in custody Wednesday after a police chase in South L.A. ended with an officer-involved shooting, authorities said.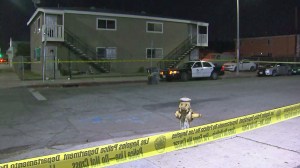 Officers responded to the 6200 block of South Main Street (map) about 2 a.m. after receiving a radio call of a family dispute, said Capt. David Kowalski of the Los Angeles Police Department.
"There had been a shooting between family members in that area," he said. Police "identified the suspect, and a foot-pursuit occurred."
The officer-involved shooting occurred three blocks away, in the 5900 block of South Main Street, the LAPD said.
The man was taken into custody without incident and transported to a hospital with unknown injuries, Kowalski said, adding: "He was not shot."
An investigation into the shooting is ongoing.