This is an archived article and the information in the article may be outdated. Please look at the time stamp on the story to see when it was last updated.
GLENDALE, Calif. (KTLA) — One person was killed and five others are recovering after an elderly driver lost control and slammed into a Glendale bakery Thursday afternoon.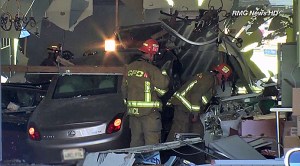 The accident happened around 12:30 p.m. at Oledina's Cake Factory in the 1100 block of East Broadway.
A 72-year-old woman lost control of her two-door gold Lexus and crashed into the bakery.
"For some reason, the vehicle accelerated very rapidly, crossing four lanes of traffic," explained Glendale police Sgt. Tom Lorenz.
He said the car "entered into this lot and began ricocheting off about five vehicles."
The Lexus violently collided with carts and cart racks and even grazed one pedestrian in the parking lot before crashing into the store's glass-front windows.
The 55-year old victim, who was not immediately identified, was pinned to the counter by the vehicle. He was pronounced dead at the scene.
"He's a neighbor and he's a watch repair man. He just came to have a cup of coffee to go back to his place," one woman told KTLA.
"It's tragic, it's sad," said passerby Erik Galstyan. "It just shouldn't have happened. The guy was just trying to enjoy his day, and it's just sad that had to happen.
The one pedestrian who was injured was taken to the hospital. Four other people suffered minor injuries.
The driver is okay, but is being questioned by investigators.
"If there's anything medically, if she's under the influence of alcohol and drugs — we want to rule that out," Sgt. Lorenz said.
The Lexus is also being thoroughly examined. After being removed from all the wreckage, it was being taken to the Glendale Police Station.
"The traffic investigators will then proceed to dismantle the vehicle to determine if there's any failures with acceleration or the brakes," Lorenz said.
Detectives said it may take several days before the investigation is completed and the cause of the crash is determined.