This is an archived article and the information in the article may be outdated. Please look at the time stamp on the story to see when it was last updated.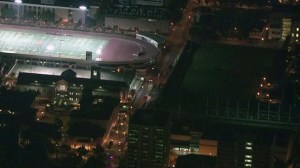 A suspect led officers on a wild car chase across Los Angeles streets before bailing from his vehicle on the USC campus.
The male suspect was taken into custody by officers who searched the campus, the California Highway Patrol said. The scene played out as the Trojans football team was battling Arizona in the Coliseum.

The driver was momentarily trapped as several California Highway Patrol vehicles executed a so-called PIT maneuver, which forces a fleeing vehicle to turn sideways and stop.
But the driver escaped in his car and drove across the campus before fleeing from his vehicle, the CHP said. The agency said it was investigating whether a shot was fired during the pursuit.
Click here to read the full story at latimes.com.