This is an archived article and the information in the article may be outdated. Please look at the time stamp on the story to see when it was last updated.
A man was shot and killed Sunday morning as he rode a bicycle in South Los Angeles, authorities said.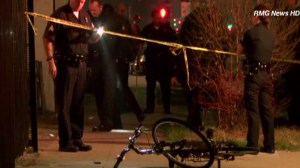 The victim was later identified as 46-year-old Don Jackson, the Los Angeles Police Department said in a press release.
Jackson was shot multiple times around 12:30 a.m. on South Main Street and East Century Boulevard (map), according to police.
The gunman opened fire on Jackson as he rode his bike past a local church. Neighbors later said they heard as many as 10 gunshots.
A passerby discovered him on the sidewalk and called for help, police said.
Paramedics transported Jackson to an area hospital, where he was pronounced dead a short time later.
"The guy was an older gentleman. That's why it's kind of surprising, to see this guy's life just get taken like that," said a rapper who identified himself as Sizzle Pop, a friend of the victim.
Police were searching for the gunman. The LAPD Criminal Gang/Homicide unit urged anyone with information to call them at 213-485-4341. Those who wish to remain anonymous can call Crime Stoppers at 1 (800) 222-TIPS.