This is an archived article and the information in the article may be outdated. Please look at the time stamp on the story to see when it was last updated.
A Temecula college student was sentenced to 18 months in federal prison Monday for "sextorting" multiple women including Miss Teen USA, according to authorities.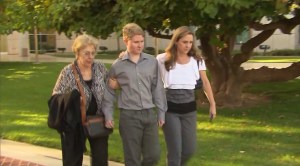 Jared James Abrahams, 20, hacked into 100 to 150 online accounts in 2012 and 2013, gaining access of the victims' email accounts, social media accounts and computers, allowing him to control the computers' webcams and take naked pictures of the victims, according a Department of Justice news release.
Abrahams threatened to post these photos online if the victims didn't agree to send him additional nude photos and videos, or do what he asked during a five-minute Skype session with him, the news release stated.
Several young women and teenagers were victimized by Abrahams, and at least two underage teens from Ireland and Canada agreed to the live session, according to the government's sentencing memorandum.
The case gained attention last year after the FBI confirmed it was investigating a "sextortion" case involving Cassidy Wolf, a Temecula resident who won Miss Teen USA in 2013.
"I was cyber-hacked and cyber-terrorized about four months ago," Wolf told KTLA's sister station WPIX in New York at the time.
Abrahams was arrested Sept. 26 and pled guilty Nov. 12 to one count of computer hacking and three counts of extortion.
"When Jared was first approached by law enforcement he gave them a full and complete admission … and he pleaded guilty," his attorney, Alan Eisner, said at the time.
Abraham has until June 16 to begin his sentence, Eisner said. Once released he will face three years of supervised release once he has completed his sentence, according to the U.S Attorney's Office. He was sentenced by United States District Judge James V. Selna.
"As digital devices, email accounts, and social media accounts now contain the most intimate details of the public's daily lives, the impact of this type of hacking and extortion becomes more pronounced, troubling, and far-reaching," prosecutors wrote in a sentencing memo filed with the court.
"In some cases, this type of criminal behavior can be life-changing for the victims – especially for vulnerable victims who may feel it is impossible to rebuild their tarnished reputations. Stated differently, individuals like defendant have the ability to affect a person's life in frightening ways by using the broad reach of the Internet," according to the memo.