This is an archived article and the information in the article may be outdated. Please look at the time stamp on the story to see when it was last updated.
A man who tried to kill four people during a shooting at a USC Halloween party banged his head on the table and cried during his sentencing hearing Friday.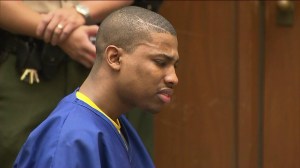 Brandon Spencer, 21, could be seen banging his head on a table and crying loudly as the judge sentenced him to 40 years to life in prison.
Spencer was convicted of four counts of attempted murder in February after shooting at people outside of a party sponsored by the Black Student Assembly in October 2012, according to a news release from the Los Angeles County District Attorney's Office.
Spencer, of Inglewood, had an ongoing feud with Rollin' 40 Crips member and Crenshaw High School football star Geno Hall over social media prior to the shooting incident, the release stated.
Neither Spencer nor the victims attended USC at the time of the shooting.