This is an archived article and the information in the article may be outdated. Please look at the time stamp on the story to see when it was last updated.
A 23-year-old man who was shot by Pasadena police officers earlier this month has been charged with four felonies and a misdemeanor, police announced Monday.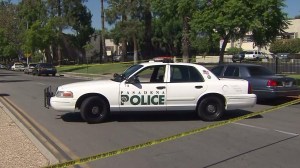 Paris Holloway allegedly threatened officers with a  gun and ran from them about 10 a.m. on Oct. 11.
One officer fired several rounds at Holloway, wounding him, and a firearm was found nearby, police said at the time.
The incident took place near Hammond Street and Sunset Avenue, in the Kings Village housing complex in northwest Pasadena, authorities had stated.
Holloway was charged on Oct 17 with assault with a firearm on a peace officer, possession of a stolen firearm, being a felon in possession of a firearm and possession of stolen property.
He was also charged with a misdemeanor possession of drug paraphernalia.
The Pasadena Police Department announced the charges Monday, the same day that a city public safety committee was scheduled to get an update on officers' conduct in the case.
Holloway was wearing "gang attire" during the shooting, Pasadena Police Chief Phillip Sanchez told committee members on Monday.
"He presented what the officer believes to be a firearm in a threatening manner, which elicited several shots from the officer, striking Mr. Holloway," Sanchez said.
Holloway remains hospitalized, according to police.
A witness to the Oct. 11 shooting told KTLA that the officer told Holloway he planned to kill him.
Sanchez said he would not "speculate" if the officers' actions were justified, saying an ongoing investigation was intended to determine that.
KTLA's Chris Wolfe contributed to this report.