This is an archived article and the information in the article may be outdated. Please look at the time stamp on the story to see when it was last updated.
A man was fatally shot in Hollywood Hills Monday afternoon and the suspected gunman seen running from the scene has still not been found, according to the Los Angeles Police Department.
LAPD officers responded to the scene in the 2000 block of North Argyle Avenue at about 2:30 p.m., Officer Luis Garcia said. The initial call was from someone who heard shots fired.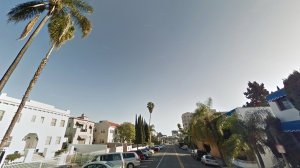 A man suffering a gunshot wound to the torso was found inside an apartment, LAPD officials said. He was pronounced dead at the scene.
The suspected gunman spotted running from the scene has been described by police as a Hispanic man wearing a blue shirt and brown pants.
The motive behind the shooting is unknown as police continue to investigate, LAPD Officer Mike Lopez said.
No further information has yet been released by authorities .