This is an archived article and the information in the article may be outdated. Please look at the time stamp on the story to see when it was last updated.
BOYLE HEIGHTS, Calif. (KTLA) — An investigation was underway on Tuesday after Los Angeles police shot and killed a man who allegedly pointed a gun at them in Boyle Heights.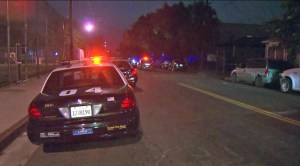 It happened shortly before midnight on Monday in the 300 block of South Gless Street near East 3rd Street.
Officers were on patrol in the area when they spotted a known gang member carrying a revolver, an LAPD official told the Los Angeles Times.
The suspect was riding a bicycle and then pointed the gun at police, the Times reported, citing sources familiar with the investigation.
The officers opened fire, hitting the suspect. He was pronounced dead at the scene.
It wasn't immediately known how many shots were fired. No officers were injured in the incident.