This is an archived article and the information in the article may be outdated. Please look at the time stamp on the story to see when it was last updated.
A man was shot and killed following a struggle that involved officers in Colton Tuesday morning, authorities said.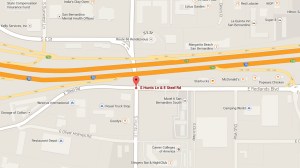 The shooting took place after police received a call about a "man with a gun" in the area of Hunts Lane and East Steel Road (map) at about 7:50 a.m., according to Detective Ray Mendez of the Colton Police Department.
Colton police officers arrived a few minutes later and made contact with a man matching the description, Mendez stated in a news release.
The man allegedly began to struggle with officers who eventually opened fire and killed him, Mendez stated.
Investigators apparently located a firearm at the scene, Mendez stated.
Although initial reports stated no officers were injured in the incident, one officer did suffer minor injuries, according to Mendez.
The man's identity was not immediately released.
The shooting was under investigation, according to Mendez.