This is an archived article and the information in the article may be outdated. Please look at the time stamp on the story to see when it was last updated.
Authorities in Lakewood were searching Thursday for a man who viciously punched a store clerk in the face during a dispute over the price of a cigar.
It happened on Sept. 7, at a Chevron gas station on Lakewood Blvd.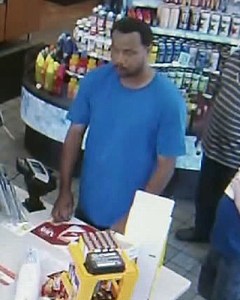 Surveillance video shows the man standing in a long line at the register about 1:15 PM.
When it was his turn at the register, he asked the 23-year-old employee for a $1.41 Swisher Sweet cigar, according to Lakewood sheriff's deputies.
The man allegedly handed the woman a dollar bill.
When she told him he needed an additional 41 cents, he protested and threatened her, authorities said.
The man can be seen trying to grab the cigar out of the employee's hand, but she was able to put it behind the counter out of his reach.
She then asked the man to leave the store.
"I just said 'You need to get out' and he just says the "b" word," the clerk told KTLA.
Instead of leaving, the man leaned over the front counter and punched her in the face with his right hand.
The clerk, who did not want to be identified, says she was scared and also surprised that no one came to her aid.
"No one did anything, not one of them," she said.
She still finds it hard to believe someone would punch her over a cigar.
"It just got me really mad, like over that, really?"
The man is described as black, 35 to 45 years old, standing between 6 feet and 6 feet 3 inches tall, weighing 215 to 225 pounds, with short black hair, a slight mustache and a beard.
Anyone with information was urged to contact the Lakewood Sheriff's Station at 562-623-3500.