This is an archived article and the information in the article may be outdated. Please look at the time stamp on the story to see when it was last updated.
Police were searching Tuesday for an 18-year-old man wanted in connection with the sexual assault of a college student in El Monte.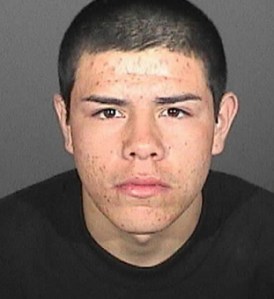 It happened on Saturday, Oct. 19 while the young woman was working as cashier at a convenience store.
As she was closing the store for the night, a man blocked the exit, dragged her to the rear of the store and raped her, according to a news release from the El Monte Police Department.
Her attacker was identified as Joseph Leo Amaya, a known gang member, police sad.
Amaya is described as a Hispanic man, 5 foot 5 inches tall, 160 pounds with dark hair and brown eyes.
He has a tattoo on his right forearm that reads, "EMF" and may have a tattoo on his neck as well, police said.
Anyone with information was urged to call Detective David Avalos at 626-258-8842 or Crime Stoppers at 1-800-222-8477.