This is an archived article and the information in the article may be outdated. Please look at the time stamp on the story to see when it was last updated.
Police were asking for the public's help Wednesday in identifying a man linked to a series of thefts from fitness gym lockers in the Los Angeles area over the past three months.
There have been eight reported thefts from gym lockers since August at Equinox Fitness and LA Fitness gyms in West Los Angeles, Van Nuys and Hollywood, according to the Los Angeles Police Department.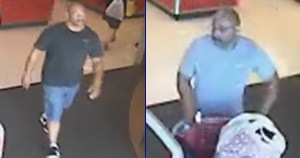 The same person was suspected in all eight thefts as well as two additional incidents being investigated by the Orange County Sheriff's Department.
Credit cards stolen from the lockers were later used at various Los Angeles and Orange County area stores, police said.
The thief was described a black man between 35 and 40 years old with a bald head and glasses. He stands between 5 feet 8 inches and 6 feet tall and weighs between 215 and 230 pounds, police said.
He was seen in surveillance video wearing blue denim shorts, black basketball shorts and black or blue t-shirts.
Anyone with information was asked to call Detective Tiffany Maston at 310-444-1565.