This is an archived article and the information in the article may be outdated. Please look at the time stamp on the story to see when it was last updated.
A man stabbed to death on a Red Line Metro train in Hollywood was identified Tuesday as Jose Velasco-Alvarado of Los Angeles.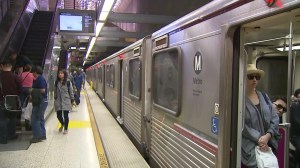 The stabbing took place about 9:20 a.m. Monday as the Red Line train stopped at the station at Vermont Avenue and Santa Monica Boulevard, according to Lt. Albert Maldonado of the Los Angeles County Sheriff's Department Transit Services Bureau.
The 34-year-old victim was seated as the train pulled into the station, according to a news release from the Sheriff's Department.
He was then approached by a man who stabbed him once in the throat before exiting the train, the release stated.
Velasco-Alvarado later died at County USC Medical Center. His attacker was still at large.
Detectives were reviewing video footage to determine if the stabbing was captured on the recording.
Anyone with information was urged to contact the Los Angeles County Sheriff's Department at 323-890-5500.