This is an archived article and the information in the article may be outdated. Please look at the time stamp on the story to see when it was last updated.
A man who was found covered in blood was taken into custody after allegedly stabbing his stepfather to death in San Bernardino early Saturday, police said.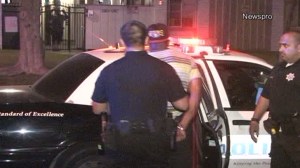 Officers initially responded to a report of a fight in progress at an apartment complex in the 1300 block of North Sierra Way (map) around 2:00 a.m., according to Lt. Travis Walker with the San Bernardino Police Department.
When they arrived at the apartment, they found a man had been stabbed multiple times, Walker said. He was pronounced dead at the scene.
Around the same time, police saw a car leaving the scene with its lights off, according to Walker.
Officers stopped the vehicle and discovered that the driver was covered in blood. He was detained and later arrested, Walker said.
Police have determined that the victim was the stepfather of the man who was taken into custody.
Authorities have not yet released the identities of the stepfather and stepson.
KTLA's Geoff Peters and Erin Myers contributed to this report.